This Website Designed and Hosted by The Cracking Good Design Company 2014
CRACKING GOOD DESIGN COMMISSION
PROJECTS 'Monsieur Puces vont Voyager'
This Website Designed and Hosted by The Cracking Good Design Company 2016
We're on hand from 8.30am till 8.00pm. Monday - Friday and 10.00-1.30 Saturdays
PROJECT:
COMMISSION OF
FULL SIZE MAN STATUE
A member of our in house graphic design team Hilary Swan, was challenged to complete this particular work of art one Friday evening in West Worthing in Sussex. Never one to resist a gauntlet laid down, work began on the project in Early November 2014 at our Biggin Hill design studios in Kent.
The Project is entitled 'Monsieur Puces vont Voyager' loosely translated as 'Mr Chips goes travelling.' So called as Philip Swan, (Nicknamed Mr. Chips while growing up) who posed for both the face and hand, was then contemplating touring the USA with his band.
Hilary explains: "The image represents a young man of 22 about to set out on a life changing trip to America, heading for the airport with a determination to leave the boy behind him, and return home as a grown man...hence the leaning forward in hurried intrepidation, in his best levi jean jacket.."
To make the features, a modrock cast was placed over Phils face, covering all but the nostrils to allow breathing, for a period of 10 minutes. After the face mask was finished, some slight remodelling of the features was carried out. The first part to be completed was the shoes and legs, and the final part, and the most difficult, was the models torso, and final paint over and application of the varnish.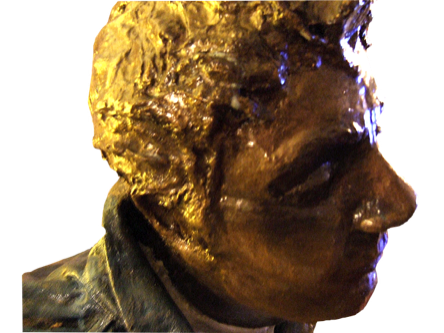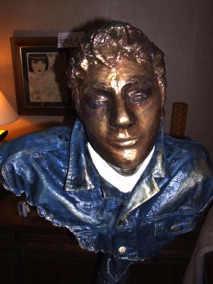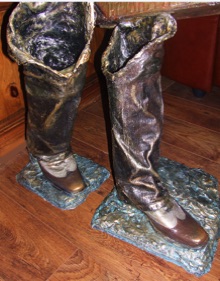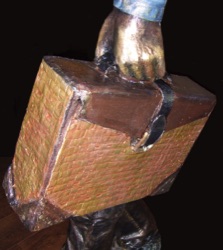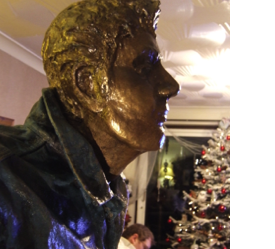 Head image. from mod rock sculptured mask
painted gold with black detail
Feet moulded onto concrete pavement bases for stability.
Hand holding
straw briefcase
Finished sculpture approx
height 6ft 2"

ART
PROJECTS
COMMISSIONS
AND SPECIALIST
GIFTSERVICES



THE CRACKING GOOD DESIGN COMPANY
M. 07956 562118
T. 01959 576500
E. sales@crackinggooddesign.co.uk
Get your business biting!